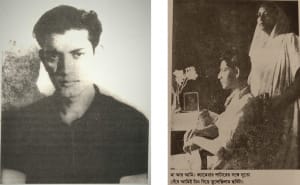 After completing his graduation course from Presidency College, Satyajit Ray joined Kala Bhavan when he was only twenty years old. His mother, Suprabha Ray, wife of late Sukumar Ray, did not allow him to enter a job at this early age. Moreover, the poet Rabindranath Tagore wanted the son of Sukumar Ray as a student of his Visva-Bharati Santiniketan school. When Sukumar Ray died of Kala-azar, Satyajit was barely two years old, and it was not possible to send him to a boarding school. Suprabha Debi would not part with her son when he was just a school-going boy. She brought him up single-handedly.
Suprabha Debi thought that they should respect the poet's wish to get Sukumar's son as one of the students of his school. Satyajit himself was also convinced to take up a course on fine arts in Kala Bhavan under the tutelage of Nandalal Bose. He was deeply interested in book illustration, just like his father. His grandfather Upendra Kishore Ray Chowdhury was also a great book illustrator and an accomplished artist. So painting and book illustration was in Satyajit's gene.
Satyajit Ray as student of Kala Bhavana (left); Satyajit Ray with his mother, Suprabha Devi (right)
In the month of July 1940, during the rains, Satyajit arrived in Santiniketan. In his first impression, he was not attracted to Santiniketan mainly because of its calm, unperturbed and isolated lifestyle. He could not play outdoor games and roam about freely. On the other hand, in Calcutta (Kolkata), life went on with carnivals, concerts, cricket and football matches and, what was more important, his 'Ma' was alone there. Moreover, there was no cinema hall in Santiniketan!
The poet Rabindranath, though ailing and indisposed most of the time, was supreme in his presence in every corner of Visva-Bharati. Rehearsals of dance dramas and theatrical plays used to go on in Uttarayan in presence of the poet. Satyajit was present there on most occasions. The learning process of the fine arts began in due course. Nandalal Bose was the Principal of Kala Bhavana, and was referred to as 'Master Moshai' by all and sundry in Santiniketan. Surendranath Kar, Benodebehari Mukhopadhyay, Ramkinkar Baij, Dhirendra Krishna Deb Barman, Vinayak Masoji, Arunachal Perumal, Gouri Bhanja, Biswarup Bose, Jamuna Sen were among the revered teachers. At that time, the advanced and senior students used to assist in the teaching curriculum of Kala Bhavan.
Nandalal Bose with his students at Kala Bhavana, 1940s
During his stay in Santiniketan, Ray used to write letters to his mother regularly. From this correspondence, we come to know of every event in the hostel life and classes of Kala Bhavan. These letters reveal a lot about the life in Santiniketan that Ray lived, and the teaching of the great masters. Just like young Apu in the novel Aparajito by Bibhutibhushan Bandyopadhyay, Ray was the only son of his mother. Her hard work as a teacher in Vidyasagar Banibhavan and her sacrifice in bringing up her only child was always respectfully remembered by Ray. He used to share all sorts of news of Santiniketan with his mother. Though he did not like life in Santiniketan, he enjoyed the teaching of Master Moshai Nandalal Bose and the company of his close friends, namely Prithwish Neogi, Dinkar Kaushik, the Ceylonese artist Sakalasurya. They became Satyajit's intimate friends for life.
The teaching process in Kala Bhavan, in those days, has been revealed from the letters to his mother, "From Kala Bhavana a list of works to be done during the period from July to September is given to each student. For each study, seven days are allotted. I too have seven days to complete two original works. I have done one of them in two days, and I shall do the other later. Now I am working intentionally hard to advance my course of study so that I can go home early before the Puja vacation. Apart from the original works, one blackboard drawing and a set of direct transfer on brown paper by brush were done in two days. Yesterday (22nd July 1940), I transferred fifteen copies of Ajanta paintings directly with brush and did the whole work in three hours. This would normally require at least seven days. Bishu-da i.e., Biswarup Bose, son of Nandalal Bose demonstrates how the work should be done. He appreciated all my drawings as good ones."
On 13th August, he wrote, "When my work will be complete for this course, I shall join the modelling classes. Apart from the listed tasks, I have to do some other work. One of which is a linocut of Rabindranath, where there were some defects in the use of light and the bone structure was not perfect. Master Moshai instructed me to copy some very difficult portraits from the Old Masters so that he could rectify the errors himself." Moreover, Nandalal gave him a book of Anatomy to study and take notes from it. He was an intelligent and hard-working young man, and nothing was difficult for him. He became an advanced student by this time, but unfortunately, there was no system that allowed an advanced student to go ahead and complete the course well before the stipulated time. Instead, Kala Bhavan insisted that the advanced students should stay and complete the entire five-year course.
At that time, the book Pagla Dashu, written by Sukumar Ray, was published by M.C. Sarkar, a publication house in Kolkata (November 1940), with the cover and inner illustrations by Satyajit himself. Rabindranath, at the request of Suprabha Ray, wrote an introductory note for the book. Satyajit was naturally very excited since this was his first book illustration.
Satyajit was deeply conscious of the financial hardships that his mother faced. He was apologetic in his letters when some extra money had been spent, even when it was used to buy a few Japanese painting brushes necessary for his artwork.
An exhibition was organized at the end of August 1940, which comprised the paintings of the Kala Bhavan students. Satyajit contributed two original paintings, which, in his opinion, were not up to the mark. Since the announcement of the students' exhibition came late, there was no time to do a new and better painting. From September 1940, each student would have to create five large (18 in. by 12 in.) original works in the next five months. Taking all these into account, it appears that at least ten original works of Ray must be somewhere in the storehouse of Kala Bhavan. Around that time, he also sent a painting to a competition, probably organized by The Statesman in Calcutta.
Next year (1941), he joined the Design classes of Gauri Bhanja. He wrote to his mother: "There are a few excellent photographs of the alpanas of Gauridi and I shall request her to give me the copies." Those must have been meant for his mother, Suprabha Devi, a teacher in Vidyasagar Bani Bhavan in Calcutta (Kolkata), a school established by Lady Abala Bose, wife of Sir Jagadish Chandra Bose, the renowned scientist. Suprabha taught fine arts and design there. Satyajit did not want to miss even a single class of Gauridi. Though he wanted to be a commercial artist, Ray studied design and alpana meticulously. This skill was later reflected in many of his cinema sets. He was enjoying his work under Nandalal Bose. Satyajit wrote to his mother, "I have finished a linocut and am doing another one. I had done a sketch of a buffalo that was later converted to the linocut. Master Moshai appreciated it with an exclamation – very good, very good!"
On 4th August 1941 came a telegram where they came to know that "The condition of Gurudev was causing great anxiety". Satyajit and his friends started at once for Calcutta but could not see the poet alive. After the demise of Rabindranath, Shilpacharya Abanindranath Tagore took charge of Visva Bharati as the Chancellor. Satyajit Roy realized the genius of Abanindranath during the rehearsal of the play Valmiki Prativa. Here Abanindranath was in charge of play-direction and music. Ray stayed in Santiniketan till the end of December 1942. Before leaving, he with his three friends went to visit the Ajanta and Ellora caves and Khajuraho temples. They enjoyed the tour very much.
Before coming to Santiniketan, Satyajit was not very interested in learning fine arts. Nor did he like the very sedate life in Santiniketan. When he came back to Calcutta and started working in an advertising company, he utilized, in many cases, the concepts of Indian Art taught in Santiniketan. His gratitude to Visva Bharati was expressed in the much-acclaimed documentary films Rabindranath and The Inner Eye. The latter was based on the life of the artist Benodebehari Mukhopadhyay.
References
Ed. Sandip Ray, Sandesh (Sharadiya Number), Kolkata, 2020

Ed Sandip Ray, Sandesh, Kolkata, February 2021

Ed. Sandip Ray, Sandesh, Kolkata, July 2021
Dr Soma Sen is a well-known scholar, researcher and writer who has authored several books on modern art and artists of Bengal. Of her recent publications, Aban Thakurer Katha, Prashanto Roy: An Amazing Artist are noteworthy. She has researched on Chitraniva Choudhury for a long time and her essay on the artist has been published in Marg. She has recently edited and contributed to the literary magazine Baha published on the early years of Santiniketan, in 2021.