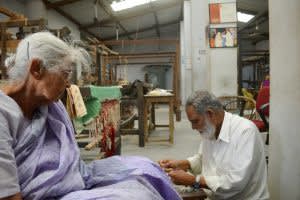 Her confidently draped saree,
motia
(jasmine) adorned scanty bun, kind eyes behind the glasses and a warm and welcoming smile on her thin lips -- people who met her in her ripe old age has this humble image of her etched in their minds. Suraiya Hasan Bose (1928 –2021), a legendary textile revivalist, pioneering entrepreneur and advocate of women's empowerment, fondly called 'Suraiya apa' by the community of weavers, textile connoisseurs, researchers, students and those who loved her and admired her for her enormous contribution to the field of textile. Her weaving unit and outlet,
House of Kalamkari Durries
in Hyderabad, was like the second home for many of us. With her demise in September and the untimely closure of the weaving unit in November 2019, a significant chapter of the textile revivalist movement in post-independent India has ended. It has remained treasured only in memories of the unnumbered people who had a chance to get associated with her. My essay attempts to revisit a brief history of the weaving unit, focusing on its final years that decayed in a parallel manner to Suraiya apa's frail body and fading memories.
Portrait of Suraiya Hasan Bose, 2016, Hyderabad © Somedutta Mallik
House of Kalamkari Durries, Hyderabad, 2016 © Somedutta Mallik
Born to an aristocratic family (with Persian lineage from her grandmother's side) in Hyderabad, Suraiya apa not only inherited the pride and admiration for her culture and traditions but unfailing love and passion for textiles. They were passed on to her by her nationalist father Syed Badrul Hasan, the founder of the Cottage Industries Emporium in Hyderabad, a very courageous mother, Kubra Begum, and uncle Abid Hasan Safrani, a close confidant of Netaji Subhas Chandra Bose. All three, along with the other family members, took an active part in the Khadi movement in pre-independent India. During her early career in garment export at the Handloom and Handicrafts Export Corporation (HHEC) in Delhi, she had her mentor, the legendary craft activist, Pupul Jayakar. The other pioneers like Kamaladevi Chattopadhyay and Martand Singh also profoundly influenced her, shaping her ideology and work. After more than two decades of work in Delhi, when she finally relocated to Hyderabad upon her uncle, Safrani's request in the early 1970s, she had to begin everything from scratch. The ten acres of land gifted by Safrani in the Dargah locale, near Golconda Fort, was nothing but a vast stretch of land, lying barren with the seeds of immense possibilities hidden underneath. Suraiya apa undoubtedly brought life by initially growing paddy, fruits, vegetables, and flowers there and then starting her small Kalamkari fabric and durries business. As it was called in the early days, Durries and Durries was born with many aspirations. It was renamed the House of Kalamkari Durries a few years later.
After the business's initial success, she became passionate about reviving Indo-Persian weaving traditions like Himroo, Mashru, Paithani and Jamawar at the heart of Hyderabad. In 1981, she set up the weaving unit with four Paithani looms. Master weavers, namely Abdul Qadir, Munaf, Ajmal and Syed Omer, joined the workshop. Suraiya apa installed another set of seven looms of Himroo, Mashru, Jamawar and Durries in a new hall with thriving ambitions. The weaving workshop shifted to a new space accommodating all eleven looms. The master weavers now started to train the neighbourhood's women and include them in the workshop. This large hall was fondly but somewhat mistakenly named Loom by the weavers.
The old workshop and outlet in the formative years, From Suraiya Hasan Bose's album © Suraiya Hasan Bose
During the 1990s and early 2000s, more than twenty-five weavers worked in the workshop in its heydays. During the time, successful collaborations took place with the founder of Fabindia, John Bissell; designer and entrepreneur Terence Conran and master Kalamkari printer Mukkantieswarudu Rao. However, the situation started changing after the master weavers left the workshop, one by one, due to their advanced age. Finally, Omer sahab was the only one to remain there and became solely responsible for teaching the apprentices and supervising the production in the Loom. His deep commitment to his job kept the workshop operating efficiently until the workshop finally faced closure.
Suraiya apa's extraordinary journey inspired many to write on her oeuvre. When I first visited her for my post-graduation research work, I thought my thesis would be one such writing that I had to complete in the next thirteen months. I was tracing the history of the workshop and the biography of the looms through the narratives of the people associated with that place. Little did I know at that time that Suraiya apa was going to be a talisman in my life, and I would be going back to House of Kalamkari Durries again and again in the years to follow. I was her "Sasural ke log" (someone from her in-law's place; she was married to Aurobindo Bose, nephew of Netaji Subhash Chandra Bose). In her late 80's, though the impaired memory betrayed her on the everyday events, she could remember the past, the days of relentless struggles and realisation of her dreams. As I would accompany her on her way from the outlet or her residence to the weaving unit, she would repeat the same incidents like an old storyteller and occasionally stop to pluck a star fruit from her garden and treat me with that. She was a nurturer in every sense.
My first encounter with Omer sahab at the House of Kalamkari Durries in 2016 was more like meeting an old craftsperson whose shaky hands were making a delicate piece only to outdo the age. Even when his poor health did not permit him to travel for hours to the workshop on the bike, Omer sahab, who had known and lived the meaning of diligence all his life, could not afford to retire and leave Suraiya apa alone to the nemesis. He chose camaraderie over his decaying health. The weaving unit was then functional with four Himroo looms and one Paithani loom. Rest were sitting idle, awaiting their fate. Ten looms, installed in two rows, and the single Paithani loom in the hall left very little room for the visitors to move freely. One had to slow down then and match the pace of the craft of Himroo weaving that demands time and patience. Suraiya apa, in her late 80s, was still visiting the workshop now and then. Her fading memory did not allow her to remember the detailed production or other activities in the weaving unit and the outlet. But sitting in the sunlight pouring from the asbestos ceiling and reminiscing the old days with Omer sahab made her happy and content. The air in the Loom smelled of nostalgia.
Suraiya apa and Omer sahab share a moment of recollection, Hyderabad, 2017 © Somedutta Mallik
With Omer sahab's demise on October 5, 2019, the weavers lost their beloved teacher and Suraiya apa, her friend and support. She was left with no other choice but to accept her cousin Dominic Hasan's proposal to shut the workshop down. The brief lives the looms lived after that were of seclusion and decay. My last visit to Suraiya apa and the workshop in January, 2021 could not have been more heart-wrenching than seeing the lonesome Suraiya apa and an empty hall covered with dust and cobwebs. During our final conversation, she appeared to me as an embodiment of craft itself that is destined for an unequal fight against time. Suraiya apa's last words lingered in my mind, "When the 'master' (Omer sahab) is not there, who else can take care of things?" I sighed and closed the blue gate behind me. The pink boundary wall still carried the name House of Kalamkari Durries in peeling paint.
The empty workshop breathes silence, Hyderabad, 2021 © Somedutta Mallik
Somedutta Mallik is an art historian and curator, presently works with Dhi Artspace, Hyderabad. Her post-graduation thesis traced the biographies of the looms in Suraiya Hasan Bose's workshop. Her research interest lies in material memory, anthropology of objects and oral history.